One of the most important aspects to look at before choosing a career is the career prospects or the job outlook. This basically determines what the future holds for that career. It shows which region hires the most number of people and which region might do so over the years. It also predicts the number of job openings usually over a span of 10 years. This is usually predicted by the Bureau of Labor Statistics or BLS. Let us check out the job outlook of a dental hygienist.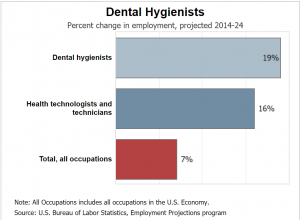 Currently, there are about 200,000 jobs held by dental hygienists all over the country. This number is expected to grow by almost 19% over the span of 10 years, till 2024. This rate is much faster than the average rate of growth of other occupations. This means that there will be about 37,000 new jobs over the course of these few years.
The high number of job vacancies is primarily due to the education requirements. It only takes an associate's degree to become a dental hygienist and there are currently 300+ accredited programs.
Another reason for the number of jobs to be so high is the type of employment. Most dentists hire dental hygienists for only a few days of the week and for limited hours. This gives the hygienist extra time to go work for other dentists to earn a bit more.
Average Salary
Dental Hygienists get a decent salary. In 2015, BLS found the median pay to be $72,330 annually. For hygienists who worked on an hourly basis, this was equal to about $34.77 per hour. Unfortunately, experience doesn't help increase this figure all that much and thus hygienists prefer to work multiple jobs or pursue a doctorate later.
Employment By Region
If you analyze by region, then you will find that California, New York, and Texas have the most number of job opportunities. On the other hand, Michigan, Oregon, and Connecticut have the highest density of dental hygienists. The highest paying states are District of Columbia, California and New Mexico.
If we shift our focus to the industries that hire dental hygienists, then we see a variety of results. Office of Dentists is the industry that hires the most number of people, has the highest density of hygienists and is also the highest paying industry out there. Employment services and Office of Physicians also hires their fair share of hygienists. Outpatient care centers also show a high density of employment.
Geographically speaking, if we look at the graph properly, you will notice that the eastern side has higher job opportunities for dental hygienists when compared to the western side. However, the western side pays much more than the eastern one. This can be understood by the simple supply and demand logic.
With the medical field constantly growing, there is always need for new personnel handling different tasks. Thus, there is an ever-increasing need for new dental assistants, dental hygienists, and dentists. Especially with the invention of new and tastier sweets. So, what are you waiting for? learn how to become a dental hygienist now!